Please fill in the requested information below press the preview button, verify
information on the next screen then press the "ADD TO CART" button where you
will be taken to the ENTRY CART. Here you can either CHECKOUT or ADD ANOTHER PARTICIPANT. If you proceed to CHECKOUT you will be required to fill in the payers information and Continuing will be brought to the Entry Confirmation where you can then CHECKOUT. You will be transferred to the Paypal processing site where you MUST select payment method and provide any information they require. Once successfully paid youwill be redirected to the Elkford Triathlon page. You will receive payment confirmation email both from Paypal and Entry confirmation from us.
Visa, M/C, Paypal ** ALL Payments are handled securely by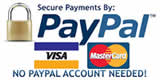 PAYPAL and will appear on your Credit Card OR /Paypal statement
as Paypal ** DATA GRAPHX
A PayPal Account is NOT Required
SORRY ENTRY FEES ARE NON-REFUNDABLE